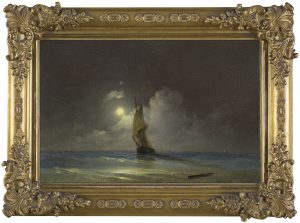 Iwan Konstantinowicz Ajwazowski
(Teodosia 1817 – Teodosia 1900)
SEA NOCTURN, 1844
oil on canvas, 26,8 x 40,5 cm
signed lower right (Cyrillic): I. Ajwazowskij 1844
on the back dedication (Cyrillic): Kniaziu Władimiru | Iwanowiczu Bariatinskomu | ot Awtora.
below in French: J. Aiwazowsky.
Provenance: In 1917 brought from Russia to Poland by the family of the current owners.
The author of Ajwazowski's monograph, N.S. Barsamov calls – similar to the presented Sea Nocturne – small paintings painted during the artist's stay abroad – "pearls".
The offered work was created during Aivazowski's foreign scholarship trip around Europe. The artist embarked on it a year after graduating from the St. Petersburg Academy of Arts – in the summer of 1840. At first he settled in Italy, where his work was enthusiastically received (including the praise of such a master of landscape painting as William Turner, who stayed in Rome in 1842). Then the artist visited the Netherlands, England, Portugal and Spain. He spent the second half of 1842 in Paris, exhibiting at the Salon. He returned to Paris in February 1844, where he exhibited three paintings at the March Salon. Aivazovsky received permission from the Academy to return from the scholarship two years earlier, and in September 1844 the artist was already in Russia (via Holland, where he had an exhibition of paintings and became a member of the local Academy). In St. Petersburg, he received the title of academician and was sent to work in the Naval General Staff. There he could also meet Prince Vladimir Ivanovich Bariatinski (Aachen 1817 – Tsarskoye Selo 1875), to whom the Nocturne is dedicated.
Vladimir Ivanovich Bariatinski – was a general adjutant, commander of the Cavalry regiment (ober-stallmeister). He took part in the war in the Caucasus and the Crimean War. He was the son-in-law of the Minister of War, Fr. A. Czernyszow. Vladimir was the second of the four sons of the Russian ambassador to Bavaria, Ivan Ivanovich Bariatinsky. Their grandmother came from the princely Oldenburg dynasty (Schleswig-Holstein-Sondenburg-Beck). The rulers of Denmark, beginning with Christian IX, and the mother of Tsar Nicholas II came from her half-brother. The mother came from the family of count Von Keller. The eldest of the Bariatyn brothers – Aleksandr (1815-1879), general- field marshal, was the commander-in-chief of the Russian troops in the Caucasus. The third brother – Apołonij (1821-1881) – lieutenant-general, was the commander of the Preobrażeński regiment of the Leib-Guard. The youngest of the siblings – Wiktor (1823-1923) – was a sailor, captain of the 1st degree, participant in the defense of Sevastopol. Interestingly, Wiktor was friends with Aivazowski, whom he mentions in his memoirs. We learn from them, among other things, that Wiktor provided the artist with a sketch of the Battle of Synopa (1853), in which the Russian fleet defeated the Turks (Aivazovsky painted two pictures in the same year depicting this victory). It cannot therefore be ruled out that the painting found its way into Vladimir's collection through his brother's friend.
Export restrictions apply to this lot. Please contact us for further details (agra@agraart.pl).